Well by popular demand by
Seahorse
I am going to tell you the full details of my application for a guide dog and some background.... i am most probably going to bore you all stupid.
Background
Well in case you hadn't already gathered I'm rather partially sighted, I was born with cataracts, squints and really small pupils lots of surgery later I have
Glucoma
as a result of the surgery's and my pupils can't react to light and dark, meaning I'm night blind and struggle to see when its sunny and glare is definitely an issue. I also live in a hat (you might have seen my entry titled hats and pubs
here
).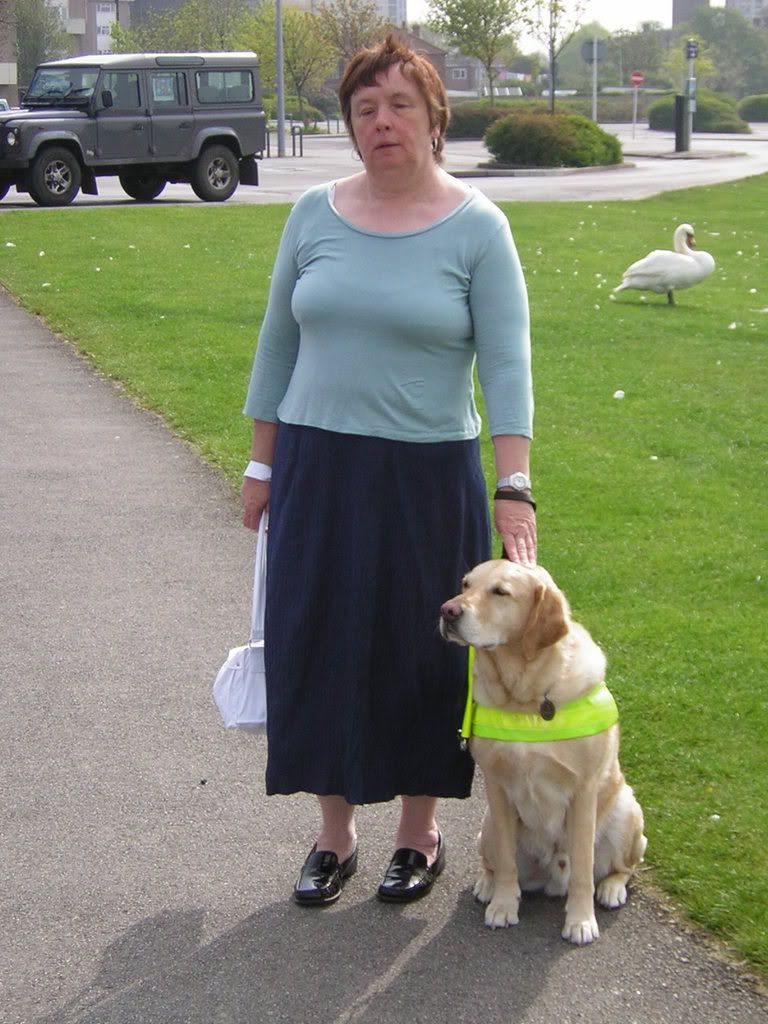 My eye condition is genetic, my mother has it to. The surgery she has was very unsuccessful, as a result my mum is registered blind and can only see light and dark she has a guide dog called Ian. (there both in the pic on the left)
I also have a Blind auntie, who can see more than my mum and a partially sighted cousin... so theirs lots of us in the family.
Guide dog : the journey so far.
On my 18Th birthday I had a conversation with my mum and dad about applying for a guide dog, they where slightly sceptical but said they wouldn't stop me so on the 31st of October last year I made the call to start the ball rolling.
My first assessment
was all about what its like to own a dog and to give me more information about applying and what the process entails, its just a friendly chat about how the organisation works. Also I received a self declaration medical form, this is to insure that I'm fit and healthy enough to train with a dog, in my case they then wrote to my GP to check they agreed I would be able to train. Also we talk about my lifestyle and my future and start to get an idea of what dog would be suitable, if I get that far.
The mobility assessment
This was the bit I was most worried about. In this assessment the mobility assessor does a quick assessment of vision, field vision and asks lots of questions about what I can see whilst out and about and about the routes I do on a regular basis, and what forms of public transport I use. More lifestyle questions and then the bit I was most worried about, the assessment walk. on this I demonstrated my long cane skills and my pace, straightness, and road safeness. also there was a traffic assessment to see when I can see and hear cars coming and weather I can see cyclists and stuff.
Now
well that's all I've done so far, slightly abbreviated.
I got a letter through on Saturday saying that my final assessment will be on the 1st of august. In that assessment I will travel to the nearest center and meet a
GDMI
(guide dog mobility instructor) and go on 2 assessment walks, where I will work 2 different dogs. it will be very nerve racking stuff. At the end of the day the decision will be made as to weather I can go on a waiting list for a dog.
I'm both extremely nervous and excited about the prospect, I will be absolutely gutted if they say no at the end of the day, if they say yes I will be smiling from ear to ear.